With Decathlon you have 365 days to change your mind! 
 
If you have bought a product on your Decathlon website and it does not fit 100% or you would like a different colour/size, you can change your mind and return the product to us. We will refund you for it.
We cover the entire shipping fee for return.
We are afraid that we do not send you a new one as EXCHANGE unless the item is defective.
Please make a new order for different color or size. You can make the order even before you return the item.

Before you return the items, please make sure to check those conditions below.
All the conditions have to be kept for return.

- It is purchased at OFFICIAL Decathlon store
  Decathlon online store, Decathlon Lab or Decathlon store overseas

- It is used only inside the room.
- It has all the accessories. (Shoe laces, screws, etc...)

- Within 365 days since paurchaced date

- Product tag is on the item.

Product tag example

 The flow to return your item is below.
1. Fill out the document
    You need to fill out a sheet that arrives to you with an item.
    There are 3 small squares on the upper part and 5 on the middle part.
    Please make sure to tick all of the 3 small squares surrounded by red frame in the picture 
    below.
    If it does not bother you, please tick any of the 5 small squares (like in the blue frame) as well      according  to the reason you want to return.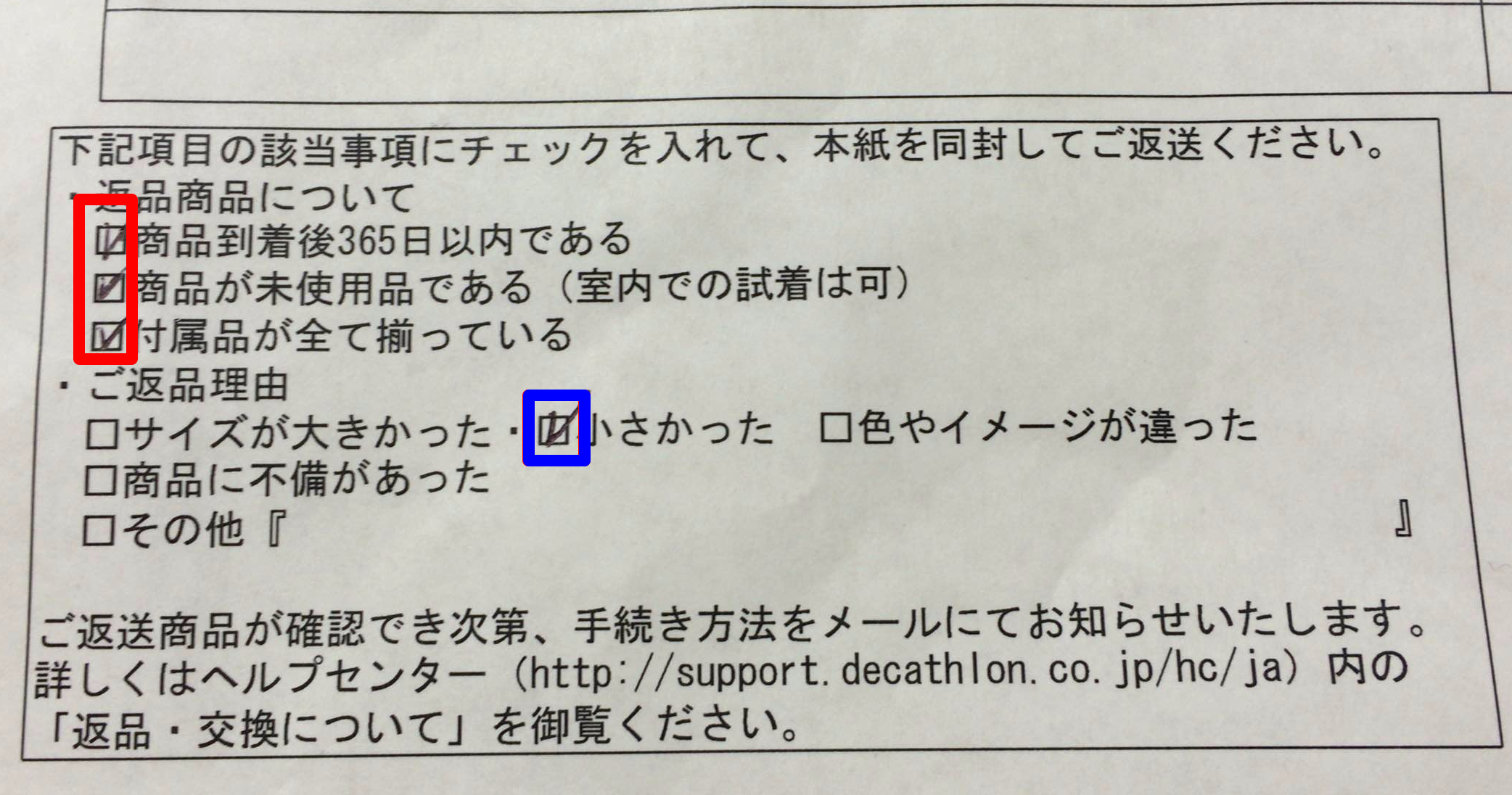 2. Pack the item and the document together
   Please pack the item you want to return with the document mentioned on step 1.
   The item has to be returned with the document. 
   If you do not have the document, please write the information below on some paper and send it     with the item.
・Your name
・Your order number
・Your e-mail address
・Your phone number
We recommend obtaining a proof of posting from your post office when sending back your parcel.
3.Ship the parcel to our office
Please send your parcel to the address below.
Zip code:660-0096
20-4, Ohgimachi, Amagasaki-shi, Osaka
DECATHLON JAPAN
Please tell a clerk at post pffice or a shipping company that you would like to use "cash on delivery".
If you need some language help, please simply show him the Japanese message below.
--------------- 
ご担当者 様
こちらのお客様のお荷物を着払いで下記住所まで発送する伝票の手配をして頂けますようお願いいたします。

〒660-0096 兵庫県尼崎市扇町20番地4階 デカトロンジャパン返品受付係 
お忙しいところ恐れ入りますがよろしくお願いいたします。 
-------------------
The defective item is checked by our quality team at the warehouse.
After we check everything, we will contact you about refund.
It takes about 1-2 weeks(Except holidays) since your item arrival.