Return
With Decathlon you have 365 days to change your mind!
If you have bought a product on your Decathlon website and it does not fit 100% or you would like a different color/size, you can change your mind and return the product to us. We will refund you for it. We cover the entire shipping fee for return.
In case of Defective, please contact Customer Support with your information (Order No. / Item Code / Trouble details). Please also provide picture(s) and/or movie to show details.
If you need Warranty Support, please see below for details: Warranty Support (Repair / Replacement)
■Condition of Returning
Before you return the items, please make sure to check those conditions below.
All the conditions have to be kept for return.
・Purchased at the official Decathlon Online Store. (We do not resell or wholesale.)
・All accessories (bags, tags, shoelaces, etc.) are attached.
・Within 365 days since the product arrived.
・Unused / Tried on indoors only.
・The product tag has NOT been cut off.


| | |
| --- | --- |
| 〇 Tags like the image below can be returned even if they are cut off. | ✖ Non-returnable if the tag is sewn on the product. |
| | |
Because the tag type and the way it is attached varies depending on the product, tags for products other than clothing will be judged individually. Even if the above five conditions are not met, we may accept the return for products when we determined to be "refundable".
If you are unsure, please contact us from Request Form
■Return Procedure
<STEP 1> Check the product you want to return in the return request form.
*If your Return Form shows more than 2 items, please mark or highlight the product name / item code you want to return.
*If the Return Form is not at hand, we will accept a note that is written the following information:
Your Order Number
Your Name
Item Code
Reason for Return
<STEP 2> Fill out the return request form.

※Mandatory field※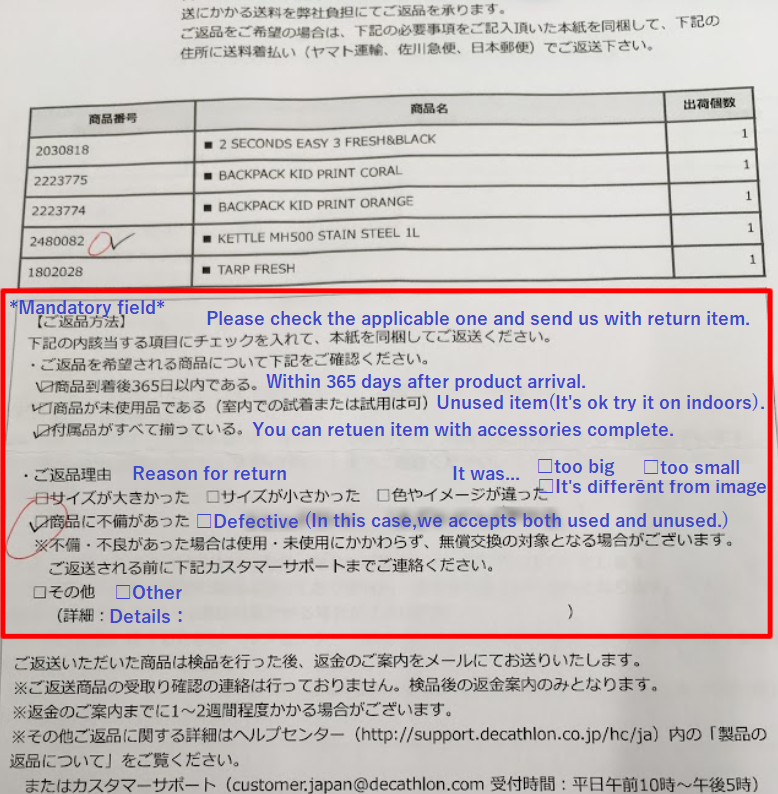 <STEP 3> Pack all items (including accessories and return request form) and send.
Please send your parcel to the address below.
〒352-0004 埼玉県新座市大和田3丁目3番21号 関通内 デカトロン返品受付係
〒352-0004 Saitama-ken, Niiza-shi, Owada 3 chome 3-21 c/o Kantsu Decathlon Return Center
*Please note that if the address is written in English, the delivery might not be reached at our return center. We therefore highly recommend the address is written in Japanese.
*Please tell a clerk at post office or a shipping company that you would like to use "cash on delivery".
If you need some language help, please simply show him the Japanese message below.
ご担当者 様
こちらのお客様のお荷物を着払いで下記住所まで発送する伝票の手配をして頂けますようお願いいたします。
〒352-0004 埼玉県新座市大和田3丁目3番21号 
関通内 デカトロン返品受付係

お忙しいところ恐れ入りますがよろしくお願いいたします。
We recommend obtaining a proof of posting from your post office when sending back your parcel.
All items will be checked by our quality team at the warehouse.
If the refund is applicable, we will proceed to with the refund process within 14 business days after your item arrival.
More question about refund? Click Here
---
Exchange with other size or color
■ Exchange with a product of

3,980 yen or more

with free-shipping:
Please place a new order for your desired size/color, and return your undesired product to us.
We will process the refund after your product arrival. You can know more about refund on this page.
■ Exchange with a product of

less than 3,980 yen

with shipping fee:
For us to create a new order with free-shipping, please follow the instruction below.
<Step 1> Provide your desired product details through Request Form.
Order Number (You can find the order number in your order history)
Product name
Product number (Item number)
Desired size (or color)
<Step 2> Wait for a draft order information email of "ご注文手続きのご案内".
<Step 3> From the draft order information email, proceed to check out by clicking on [購入手続きを完了する]
<Step 4> Receive an order confirmation email when your order is successfully placed.
<Step 5> Return your originally purchased item.
[Important Notes]
● If your checkout is not completed within the certain period, the order will be canceled.
● You can only request the exchange to a different size and/or color of the same product on the same product web page.
● Exchange request may not be accepted for any reason (e.g. out of stock, different lineup selected).
With You can know more about refund on this page
Have more questions? Submit a request